When:
October 14, 2017 @ 7:30 pm – 10:30 pm
2017-10-14T19:30:00-04:00
2017-10-14T22:30:00-04:00
Where:
Desboro Music Hall
136215 Grey County Rd 40
Chatsworth, ON N0H 1G0
Canada

Contact:
Joe Klages
(519) 377-2358
Opening Act: Benjamin Dakota Rogers
Desboro Music Hall 2017 Concert Series
All Ages Doors Open: 7pm, Music Starts: 7:30pm
Tickets: Advance: $20 ($17.70 +HST), Regular: $25 ($22.12 +HST)
*Advance tickets are only available up to the Box Office hours the weekend before the show or we run out (Note: there is a limit of 25 advance price tickets)
---
Honey Brothers

Drew McIvor
If music be romance, then Drew McIvor's music just might be the first date: playful, chatty, honestly yearning to connect. With his trusty six-string, this charismatic crooner performs with a masterful simplicity inviting audiences not only to listen, but truly share the musical experience. His deep affection for his craft is apparent at every turn; you can feel his heart is in the music, and it is contagious.
Jayden Grahlman
Being around Jayden when he has a guitar in his hand and a song on his lips is being around a good thing. There's nothing to figure out, it's just musical joy. Combining effervescent, capable song writing with truly staggering guitar chops, he delivers performances that not only say "man can this guy play" but more over, "isn't music wonderful!"
On their own these two Georgian Bay gems shine. Combined, they sparkle, offering up a beautifully melodic palette of folk, americana, gypsy swing, and acoustic soul in sweet skillful harmony.
Drew McIvor Website
Drew McIvor Facebook
Jayden Grahlman Facebook
Jayden Grahlman Soundcloud
---
Benjamin Dakota Rogers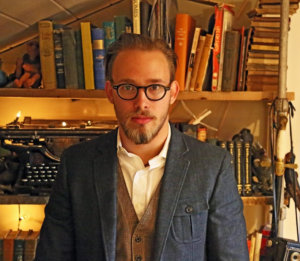 Benjamin Dakota Rogers is a multi-instrumentalist, singer songwriter and composer. Using his captivating voice, explosive fiddle and guitar he is creating music that draws you in with stories and poetry. His fiddle work has been described as hard driving, powerful folk with a contemporary edge. Benjamin has brought his love of music to audiences of all ages with his musicality and engaging performance. He is accompanied by Chris Rait on stand-up bass, guitar and warm harmonies. Accolades include Two Canadian Folk Music Award nominations, three Hamilton music award nominations and winner of two International Songwriting competitions. He is quickly becoming a fan favorite. Benjamin was excited to learn Folk Roots Radio placed his third CD Whisky and Pine at #6 in the top 10 albums of 2016!

Benjamin Dakota Rogers Website
Benjamin Dakota Rogers Facebook
Benjamin Dakota Rogers Twitter