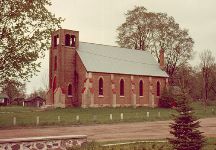 The original church was established on the hill to the north, outside of Desboro where the cemetery still stands. (Lot 10 Con 8).  The Benedict family donated the land the church now stands on.  This church was built in 1886 and named St John's Anglican Church, part of the Diocese of Huron serving the Desboro community.  Four years later, the large shed was built to accommodate the horses and in 1957 the shed was sold to the township of Sullivan.
In 2011, the church celebrated it's 125th Anniversary.  In 2014, they closed their doors and held their last service.  In 2015, Phil and Joe walked through the church and saw its potential and bought the church to turn it into a building the community can continue to enjoy.
People can visit the Grey Roots Museum to see a number of the artifacts from the church including the beautiful stained glass windows.