Sep
16
Sat
2017
Naomi Bristow

@ Desboro Music Hall
Sep 16 @ 7:30 pm – 10:30 pm
Main Act: Naomi Bristow with Steve Piticco
Opening Act: Ken Yates
Desboro Music Hall 2017 Concert Series
All Ages
Doors Open: 7pm, Music Starts: 7:30pm
Tickets: Advance: $20 ($17.70 +HST), Regular: $25 ($22.12 +HST)
*Advance tickets are only available up to the Box Office hours the weekend before the show or we run out (Note: there is a limit of 25 advance price tickets)
---
Naomi Bristow
Naomi is a young artist that hails from a small farm in Ontario, Canada. Her family was involved in the rodeo life which led her down the path of country, western and gospel music. At a young age, Naomi has made some impressive contributions to the industry which include opening for Gene Watson, Johnny Reid, David Frizzell, Moe Bandy, Ronda Vincent, Charlie Daniels, Marty Stuart, Jim Ed Brown, George Canyon, Bobby Bare, Dean Brody and many others. Among the many accolades received in the past, Naomi cherishes the "Fans Choice Award" from the Havelock Jamboree, the "Rising Star Award" from the BC Cowboy Heritage Festival and the Western Music Association two time winner, "Youth Yodeler of the Year". Naomi has received awards from the Municipal, Provincial and Federal Governments for her outstanding achievement in music. Naomi was honored to be a two time nominee for the Western Music Association Crescendo Award and the Ontario Country Music Award Rising Star.  She has also been featured in the United States for the third season of Shotgun Red Variety Show and she is a regular on the Midwest Country Show both on the RFD television network. Naomi has recorded 7 CD's that demonstrate her incredible singing and yodeling talents earning her "Best Traditional Yodel Album of the Year 2010".  Naomi has had the absolute honor of recording in Nashville featuring Grand Ole Opry stars, Jim Ed Brown, Richard Sterban, Whispering Bill Anderson and recently recording a gospel album with Vince Gill. Naomi was also featured on Canada's Got Talent in the 2012 season.  Naomi will capture your heart and she will be sure to please any audience.
Albums
2007 Cowboy Sweetheart
2008 The Yodelin' Cowgirl
2009 Ridin' High
2010 Lookin' Back with Jim Ed Brown
2011 Lovin' the Ride with Jim Ed Brown and Richard Sterban
2012 Blessed Trails with Vince Gill
2013 The Heart of the Cowgirl DVD
2014 Stayin' on Track
2015 Yodelin' Christmas with Whispering Bill Anderson
· Recorded with Jim Ed Brown 2010/11
· Recorded with Richard Sterban 2011
· Recorded with Vince Gill 2012
· Recorded with Whispering Bill Anderson 2015
· Opened for Gene Watson
· Opened for Charlie Daniels
· Opened for Helen Cornellus
· Opened Jim Ed Brown
· Opened for Marty Stuart (Kipawa, Canada)
· Opened for The Good Brothers
· Opened for The Quebe Sisters
· Opened for David Church
· Opened for Bobby Bare
· Opened for Moe Bandy
· Opened for Gary Fjellgaard
· Opened for George Canyon
· Opened for Gordie Tapp
· Duet with Dean Brody on Arena Tour
· Headliner at the Hank Snow Festival
· Featured on the top list of Canada's Got Talent
· 3 Seasons of Shotgun Red Variety Show
· Monthly featured for the 4th year on Midwest Country RFD TV
· Fans Choice Award for the Havelock Country Jamboree
· Rising Star Award from the BC Cowboy Heritage Society
· Western Music Association two-time Youth Yodeler of the Year and 2 nominations for Crescendo Award
· Municipal, Provincial and Federal awards for outstanding achievement in music
Naomi Bristow Website
Naomi Bristow Facebook
Naomi Bristow YouTube
---
Steve Piticco
STEVE PITICCO; born in Toronto, Ontario on July 6th/1961, started playing guitar at age eleven.
At the age of fifteen years he purchased his Telecaster and has since then, performed professionally with that specific guitar.
Subsequently, he has toured and recorded with countless Top Canadian Country acts, who utilize him for his distinctive Tele sound.
---

Ken Yates
Since first planting roots within the Canadian music scene in 2011, Ken Yates has steadily grown a reputation as one of the country's brightest singer/songwriters. His sound offers the complete package—unforgettable melodies, emotionally charged storytelling, and top-notch guitar chops—all gloriously displayed on Yates' new album, Huntsville. Produced by Jim Bryson (Weakerthans, Kathleen Edwards), Yates' second full-length effort is a major stylistic step forward, with its 11 tracks capturing his artistic evolution amid extensive touring over the past three years. "Keep Your Head Down," with its subtle, driving groove, opens the album like a train pulling out at dawn, with vast, open vistas lying ahead. Those come into focus on other key tracks such as "Once More To The Lake," "Roll Me On Home" and "The Best Part Of Leaving." Yet, everywhere on the album, echoes of the Canadian songwriting tradition, from Gordon Lightfoot to Bruce Cockburn to Ron Sexsmith, are apparent, proving that with Huntsville, Ken Yates is ready to join that exalted company. A native of London, Ontario (a few hours' drive south of the actual Huntsville), Yates studied at the prestigious Berklee College of Music in Boston. His first release, The Backseat EP, came out in 2011, followed by his full-length debut, twenty-three in 2013. One track on that album caught the ear of fellow Berklee alum John Mayer, who commented in a lengthy blog post, "Ken Yates wrote a song called 'I Don't Wanna Fall In Love.' This song moved me when I first heard it, and it still does today."
Ken Yates Website
Ken Yates Facebook
Ken Yates Twitter
Ken Yates Instagram
Oct
14
Sat
2017
Honey Brothers

@ Desboro Music Hall
Oct 14 @ 7:30 pm – 10:30 pm
Opening Act: Benjamin Dakota Rogers
Desboro Music Hall 2017 Concert Series
All Ages Doors Open: 7pm, Music Starts: 7:30pm
Tickets: Advance: $20 ($17.70 +HST), Regular: $25 ($22.12 +HST)
*Advance tickets are only available up to the Box Office hours the weekend before the show or we run out (Note: there is a limit of 25 advance price tickets)
---
Honey Brothers

Drew McIvor
If music be romance, then Drew McIvor's music just might be the first date: playful, chatty, honestly yearning to connect. With his trusty six-string, this charismatic crooner performs with a masterful simplicity inviting audiences not only to listen, but truly share the musical experience. His deep affection for his craft is apparent at every turn; you can feel his heart is in the music, and it is contagious.
Jayden Grahlman
Being around Jayden when he has a guitar in his hand and a song on his lips is being around a good thing. There's nothing to figure out, it's just musical joy. Combining effervescent, capable song writing with truly staggering guitar chops, he delivers performances that not only say "man can this guy play" but more over, "isn't music wonderful!"
On their own these two Georgian Bay gems shine. Combined, they sparkle, offering up a beautifully melodic palette of folk, americana, gypsy swing, and acoustic soul in sweet skillful harmony.
Drew McIvor Website
Drew McIvor Facebook
Jayden Grahlman Facebook
Jayden Grahlman Soundcloud
---
Benjamin Dakota Rogers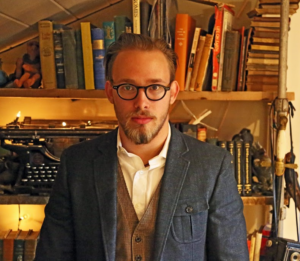 Benjamin Dakota Rogers is a multi-instrumentalist, singer songwriter and composer. Using his captivating voice, explosive fiddle and guitar he is creating music that draws you in with stories and poetry. His fiddle work has been described as hard driving, powerful folk with a contemporary edge. Benjamin has brought his love of music to audiences of all ages with his musicality and engaging performance. He is accompanied by Chris Rait on stand-up bass, guitar and warm harmonies. Accolades include Two Canadian Folk Music Award nominations, three Hamilton music award nominations and winner of two International Songwriting competitions. He is quickly becoming a fan favorite. Benjamin was excited to learn Folk Roots Radio placed his third CD Whisky and Pine at #6 in the top 10 albums of 2016!

Benjamin Dakota Rogers Website
Benjamin Dakota Rogers Facebook
Benjamin Dakota Rogers Twitter
Dec
3
Sun
2017
Interro Quartet

@ Desboro Music Hall
Dec 3 @ 2:00 pm – 4:00 pm
Please join us for a Winter Chamber Music Concert.  We have always thought the acoustics in the Hall would be perfect for a small quartet.  Interro Quartet is a string quartet featuring violin, viola and cello.
Interro Quartet combines passionate performances with a curiosity to explore new sounds and venues in chamber music. The group's repertoire includes works of classical music giants, as well as new compositions by emerging and established Canadian composers. Featuring award-winning graduates of University of Toronto, the Interro Quartet includes violinists Adam Despinic and Steve Koh, violist Maxime Despax, and cellist Sebastian Ostertag.
The mission of the Interro Quartet is not only to make quartet music accessible to those who seek it but also to broaden the spectrum of audiences through diverse programming. To complement this mission, members of the Interro Quartet are also avid educators and clinicians, dedicated to supporting education programs that encourage new ways for artists and listeners to share, experience, and incorporate chamber music into their daily lives.
Interro Quartet Website
Interro Quartet Facebook
Interro Quartet Instagram
Individual bios:
Adam Despinic, violin
Steve Koh, violin
Maxime Despax, viola
Sebastian Ostertag, cello