Jul
25
Sat
2020
Songwriters in the Round

@ Desboro Music Hall
Jul 25 @ 7:30 pm – 10:30 pm
Songwriters in the Round
Featuring Karen Morand, Gina Horswood and Gillian Nicola
This will be a slightly different format than our other concerts.  All three musicians will be on the stage together.  Each performer will tell a story and play their song before rotating to the next performer.  We'll have an hour of songs with a half hour break before another set of music. Come enjoy a fantastic evening of stories and songs.
Desboro Music Hall 2020 Concert Series
All Ages
Doors Open: 6:30pm, Music Starts: 7:30pm
Tickets:Regular: $25
---
KAREN MORAND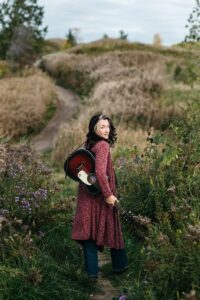 Karen Morand has roots that run deep. Born in Toronto and based in Southern Ontario, the award-winning singer-songwriter does life off the beaten path, sleeves rolled up with an eye on the eternal. Armed with feisty, powerhouse vocals, she delivers a soul-stirring show: lively, alt- folk with well-worn blues and gritty gospel on the side. 
Karen radiates with energy in live performances both solo and accompanied by her acoustic trio, BOSCO (Aaron Verhulst and Benny Santoro). A graduate from the University of Windsor's music therapy program, Karen enjoys making meaningful connections with her audience and inspiring hope. She is also a music educator, workshop instructor and music director.   
Since her first studio release, 'Carry On' in 2012, followed by 'I Think I'll Lose My Mind Today' in 2014, and Junkyard Heart in 2016, Karen has maintained an intense performance schedule throughout Ontario and most recently, touring Eastern Canada. Her first solo and most recent release, "Every Flash of Light" (2018) is an EP produced by Danny Gauthier including co-writes with Nashville songwriters Steve Hindalong (the Choir), Kelly Kessler and Linda McRae (Spirit of the West). Other collaborations include her recent pairing with internationally renowned bluesman, Manitoba Hal Brolund as bluesy gospel Americana duo, "Even the Bird Was Free." 
What some folks are saying:
"I met Karen Morand at the Ontario Council of Folk Festivals in 2010 where I was a mentor. She was just beginning her career as a singer/songwriter and I was immediately impressed by her warmth and straightforward attitude. She has made great strides since then and has just released her second recording of her own material. Her songwriting belies the amount of time she's actually been writing and I believe she is on her way to becoming an artist who will be a force on the Canadian music scene" Linda McRae, platinum award winning musician
"Karen Morand is something of a standout in the crowded field of solo singer-songwriters. Her performances and recordings both display a careful attention to craft as well as a broad range of influences. Karen's material demonstrates her comfort with a variety of styles and genres and her ability to create appealing melodies and lyrics." Danny Sullivan, Artistic Director, Blue Skies Music Festival
"Songwriter Karen Morand casts power to stir the storm in your soul and part the dark clouds hovering over your heart.  Karen drives the engine through songs that clang, grind and chug with bold defiance, shaken faith and cryptic warnings; breathing steam around embraces of the wounded and outcast."  Songstress and CJAM radio host Allison Brown
---
GINA HORSWOOD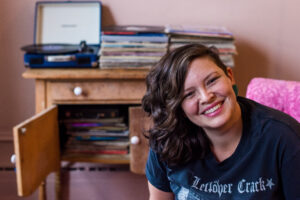 "Horswood has been on a long journey for one so young, having topped the country music charts in her native Australia with her sister as the duo 'Horswood' and then embarking on a nomadic round the world trip, landing in Europe just as her first solo release hit the charts at home, a short stay in Nashville followed with a resulting EP release 'The Nashville Sessions' the journey then culminating in a move to Canada which she now calls home.
[Gina's latest release] Porcelain is the triumphant result of the experiences of world travels, mixing the country / roots 'bed' she was noted for lying in and adding a hint of gospel and blues stylisations that she's been drawn towards since moving to North America."
Stevie Connor (Blues & Roots Radio, Fatea Magazine UK)
---
GILLIAN NICOLA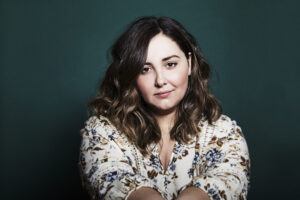 Hamilton's Gillian Nicola took an unusual route to becoming a folk/Americana singer-songwriter: trained in classical voice, Nicola spent her teens gigging in a classic rock cover band, singing Janis Joplin and Led Zeppelin before launching herself into alt-country when she began writing songs. Nicola's music centres around her chameleonic vocals – at one moment with a hint of tobacco in her voice, the next outright rocking – strummed and finger picked guitar, and versatile, melodic songwriting. Nicola's songs are often built around open and alternate guitar tunings that allow her to throw her music theory upbringing out the window. Nicola released her debut full-length album, Dried Flowers, on May 3, 2019. Produced by John Dinsmore, the album reached number 3 on the earshot! Folk/Roots/Blues Charts and has received CBC airplay nationwide.
Dried Flowers is "an alt-country-folk-rock masterclass in the affairs of the heart" – Hamilton Magazine.
Aug
14
Fri
2020
Little Miss Higgins with Bob Robinson

@ Desboro Music Hall
Aug 14 @ 7:30 pm – 10:30 pm
Main Act: Little Miss Higgins
Opening Act: Bob Robinson
Desboro Music Hall 2020 Concert Series
All Ages
Doors Open: 6:30pm, Music Starts: 7:30pm
Tickets:Regular: $25
---
LITTLE MISS HIGGINS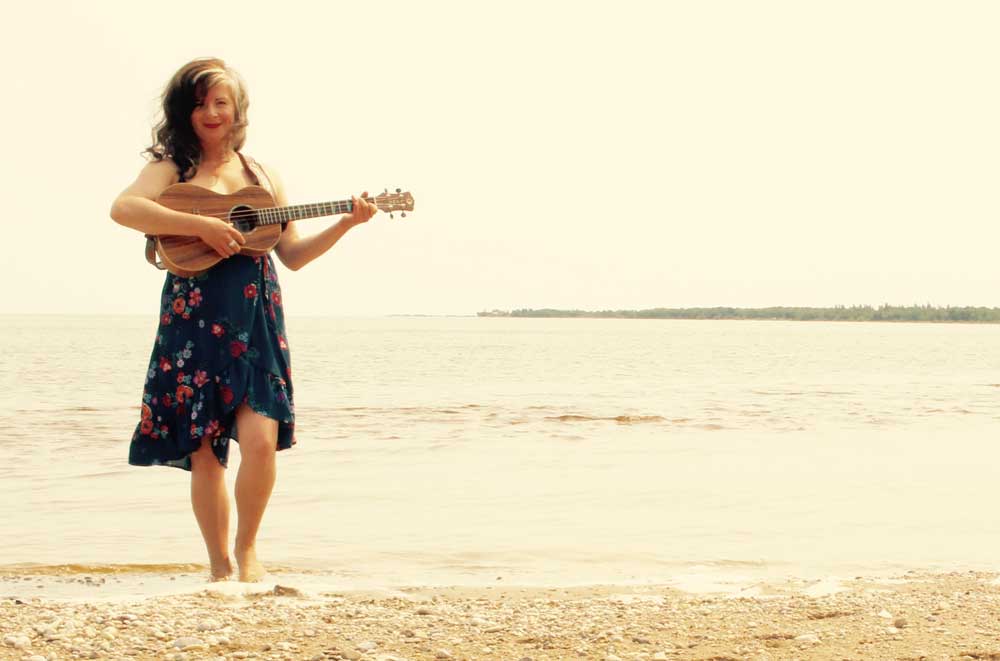 From the Great Northern Plains, Little Miss Higgins struts and serenades her way onto any stage playing music brewed up in early country blues, jazz and folk. For over 15 years, she has performed, toured, collaborated, recorded and released 5 independent albums. Her music has won three Western Canadian Music Awards and received JUNO and Maple Blues Awards nominations. Now, along with motherhood, Higgins has the newest addition to her list of accomplishments, MY HOME, MY HEART.
Recorded at The Song Shop in Winnipeg, Manitoba, MY HOME, MY HEART is a collection of fresh songs from a unique artist, who remains true to her roots, but has ventured into new territory. Her voice has never been richer or songwriting riper, and the crew of Winnipeg musicians Higgins has brought together on this musical steam ship shines with talent. Co-produced with Scott Nolan and engineered by Jamie Sitar of Outta Town Sound, this album is an effortless addition to this artist's impressive body of work. To top it all off, her hand-drawn ink artwork is used for the album cover design.
Little Miss Higgins (aka Jolene Higgins) was born in Brooks, Alberta, and raised in Independence, Kansas. Music entered her life early. "When I was about four my dad brought home an old mini-grand piano and told me it was mine. I carved my name in the side of it and then I had to start taking piano lessons."
Higgins now uses guitar and voice as her main instruments as well as her theatre background to bring a refreshing sound and story to the stage. Higgins settled in Saskatchewan from 2002-2013 and that's when music took the driver's seat. Over that time she built her career touring across Canada performing in clubs, theatres and festivals.
As a songwriter and musician, Higgins has been influenced by a range of artists from Memphis Minnie and Billie Holiday to Joni Mitchell and Dolly Parton as well as the vast array of Canadian musicians and bands she has had the fortune to see live or even share a stage with like Big Dave McLean, Corb Lund and the Deep Dark Woods to name a few.
In 2011, Higgins opened kd lang's album release tour in Britain and has appeared live on many CBC radio shows such as Stuart McLean's Vinyl Café, Michael Enright's Sunday Edition and Rich Terfry's Drive. Her talents have also been put to use in the creation of a dust-bowl folk opera in collaboration with the Old Trout Puppet Workshop of Calgary, Alberta. Sharing her abilities with others, young and old, is another passion; she has taught songwriting at many schools and workshops including the Hornby Island Blues Workshop and Play & Record at the West End Cultural Centre in Winnipeg MB.
Higgins has since made the province of Manitoba her home with her partner and son. Though motherhood takes up most of her time these days, she continues to perform, write, paint, and cultivate her creative spirit.
---
BOB ROBINSON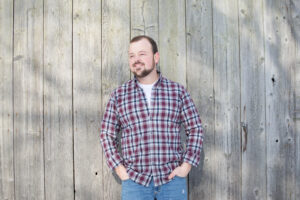 Bob Robinson is sure to evoke emotions with his heartfelt music and authentic personality. He will draw you into the stories of his songs and maybe even bring out a few laughs. With over a decade of performing soulful Country and Rock & Roll on stages across Ontario, he knows how to create a toe tapping good time you'll want to sing along with. Armed with an acoustic guitar and his signature powerful vocals he is now sharing his original sound and songs. This is Bob Robinson.
This is what I was doing in the spring between gigs. It's a song I wrote for my wonderful girlfriend to tell her she changed my life for the better and I love her like no other.

Justin and Keegan of W&R Media did a fantastic job. Thanks boyz!

Enjoy

Posted by Bob Robinson on Wednesday, 18 July 2018