When:
July 8, 2017 @ 7:30 pm – 10:30 pm
2017-07-08T19:30:00-04:00
2017-07-08T22:30:00-04:00
Where:
Desboro Music Hall
136215 Grey County Rd 40
Chatsworth, ON N0H 1G0
Canada

Contact:
Joe Klages
(519) 377-2358
Opening Act: Carter and Ben
Desboro Music Hall 2017 Concert Series
All Ages Doors Open: 7pm, Music Starts: 7:30pm
Tickets: Advance: $20 ($17.70 +HST), Regular: $25 ($22.12 +HST)
*Advance tickets are only available up to the Box Office hours the weekend before the show or we run out (Note: there is a limit of 25 advance price tickets)
---
The Redhill Valleys
The Redhill Valleys are an original 3-piece Folk/Rock group from Hamilton, Ontario. Rooted by their influences in southern rock, acoustic Americana and soul, the newly formed trio are forging a musical path all their own. The collaboration of guitarist Danielle Beaudin, bassist Chelsea McWilliams and drummer Tim Allard is built upon a common dedication to the craft of songwriting, unifying the poetic ease of their lyrics with unforgettable melodies, harmonies and guitar riffs.
The path to now began when bassist Chelsea McWilliams and guitarist Danielle Beaudin hit the open road for Nashville, Tennessee. They collaborated on their newly developed material and it wasn't long before the pair found their rhythm. Drummer Tim Allard joined shortly after their return from the Music City, and it became undeniable that something unique was under way as their individual sounds came together as one. They didn't know it yet, but this was the beginning of The Redhill Valleys.
The trio dug their heels in over the following year,  polishing their live material and playing the local circuit. Songs worthy of a full-length album were quickly coming to life, and a curious hum among the Hamilton music scene was building around their folk, roots, and rock inspired sound. Their collaborative influences brought catchy country choruses, as heard on their new single titled "Wrong Way Turns Out Right", a Canadiana inspired folk ballad called  "Parry Sound", and unapologetic toe-tappin' rock via tunes such as "You Can't Be Alone" and "Ragged and Run Down". Their set-list crossed genres and touched on the hearts of true music lovers.
After a successful fundraiser, the group was able to raise money to begin the recording process. Their debut album was recorded at Westmoreland Recording Studios in Hamilton, Ontario with producer Carl Jennings. The 12-tracks feature McWilliams, Beaudin and Allard trading off lead vocals, which leads the listener on a multifaceted and deeply rich journey. In the studio, the trio honed in on their respected and multi-instrumental abilities to fine tune and translate the energy of their live performances into the record. With the help of producer Jennings, their sound became distinct and the songs unforgettable.
Released on April 26th 2016, the album is now available for purchase via The Redhill Valleys store and download on iTunes and Bandcamp, and streaming on SoundCloud, Spotify, Apple Music and more!

Redhill Valleys Website
Redhill Valleys Facebook
Redhill Valleys Twitter
Redhill Valleys Instagram
---
Carter and Ben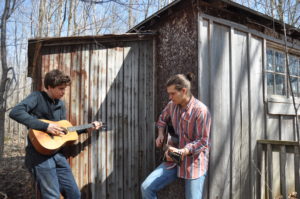 This duo is known to captivate their audiences with their dexterity, sincerity, and organic playing style. They take the defining aspects of blues and folk and approach them from different angles resulting in a fresh interpretation of two great genres. Their songwriting has been described as thoughtful, soulful, engaging.
In August of 2016, Carter Rolland and Ben Turcotte released their debut album "Basement Folk".