When:
June 17, 2017 @ 7:30 pm – 10:30 pm
2017-06-17T19:30:00-04:00
2017-06-17T22:30:00-04:00
Where:
Desboro Music Hall
136215 Grey County Rd 40
Chatsworth, ON N0H 1G0
Canada

Contact:
Joe Klages
(519) 377-2358
Opening Act: Rob Elder
Desboro Music Hall 2017 Concert Series
All Ages
Doors Open: 7pm, Music Starts: 7:30pm
Tickets: Advance: $20 ($17.70 +HST), Regular: $25 ($22.12 +HST)
*Advance tickets are only available up to the Box Office hours the weekend before the show or we run out (Note: there is a limit of 25 advance price tickets)
---
Ben Kunder
Part carpenter; Part actor; Canadian singer-songwriter Ben Kunder has spent years honing his craft to become a full time musician. On May 26, 2015, Ben ventured closer to making this a reality with the release of his DEBUT solo LP, Golden.With a voice that truly fills your heart and keeps you warm, Ben writes songs that everyone can relate to. His powerful voice is a driving force in his music, guiding his songs by creating impressive and tactful melodies and dynamics.
Exclaim! declared, "Kunder's extra special voice, along with gorgeous production, lends the record an almost velvety quality." While NewCanadianMusic said the album: "features strong and warm vocals, nicely-crafted folk-rock songs, and top-notch production and playing," and the Toronto Star had this to say about Ben – "he's got the kind of mellow sincerity in his voice to take it beyond generic country-pop."
No stranger to the Canadian music community, Ben has been writing and producing his music independently for over 7 years. Through a chance meeting with John Dinsmore (NQ Arbuckle), the pair hunkered down at John's, Lincoln County Social Club studio to co-produce Golden. The album features 9 stunning original songs by Ben, including the first single and title track, Golden. Ben (guitar, vox, and piano) is joined by a group of Canada's finest musicians for the studio recording, featuring Brian Murphy (Alvvays) on guitar/piano/Wurlitzer, Rich Knox (Dustin Bentall, Danko Jones) on drums/vox, Anna Ruddick (Ladies of the Canyon, Randy Bachman) on bass/vox, and Aaron Goldstein (Cowboy Junkies, Daniel Romano) on pedal steel.  Also John Connolly lends his voice, along with Kirty, Maia Davies (Ladies of the Canyon) and Jasmine Bleile (Ladies of the Canyon) for select tracks.
Ben has lived all across the beautiful country of Canada, from his solar powered cabin on Salt Spring Island, BC, where he spent his days chopping wood and chasing deer from the garden, to Charlottetown, PEI, working at the Confederation Centre for the Arts. Now, Ben is back to where he started his journey in his hometown of Toronto. Golden is an album that pushed Ben to new levels, and will surely see him reach new heights in his career.
Sarah MacDougall
Described by the magazine Rootstime in Belgium as 'One of the greatest talents of our era", and listed as the "2nd best gig" by the major UK newspaper The Independent, becoming the #1 most played artist on Canadian Galaxie Folk/Roots radio, Western Canadian Music Award winning artist Sarah MacDougall is getting known for her honest and poetic songs, passionate performances, and unique voice. Born in Sweden, Swedish magazine Nöjesguiden declared her "One of Sweden's best singer/songwriters".
Since the release of award-winning The Greatest Ones Alive in 2011, Sarah has been touring Canada and Europe endlessly, taking time to work on songs and record between tours. Last winter, she hunkered down under the Northern Lights in Whitehorse and put the final touches on the sonically rich album which was to become Grand Canyon. The album, co-produced by Sarah and Caleb Stull (Field Study, Dominique Fricot, Language Arts), which was recorded in Toronto and Vancouver, features 8 songs and guest appearances from Erika Angell (Thus:Owls), Rose Cousins, Jesse Zubot (Tanya Tagaq, Dan Mangan), Peggy Lee, and Leah Abramson (Abramson Singers). Stepping outside of traditional folk and flirting with sounds that could have come from The Postal Service or Kate Bush, Grand Canyon keeps the acoustic guitar but infuses the sound with heavier drums and richly textured strings and synths.
The songs are about identity, love, fear, hope, growing up, rootlessness, forgiveness. They are written from the point of view of the hopeful outsider, trying to figure out their place and make sense of the world. Grand Canyon sees Sarah challenging herself and pushing new boundaries musically and sonically, and it is an album that will surely see Sarah reach new levels in her career.
Ben Kunder Website
Ben Kunder Facebook
Ben Kunder Twitter
Sarah MacDougall Website
Sarah MacDougall Facebook
Ben and Sarah's Photos by Scarlet O'Neill
---
Rob Elder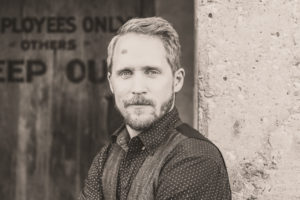 Rob's music is real-life-inspired. His energy and stage presence draw people in and keep them like dinner guests at a Muskoka cottage, while his song writing has simmered and aged to a vintage that takes an audience on a vivid trip along his unique perspective of life and love. From smooth acoustic ballads about girls and things, to his 'jump out of your seats and dance' multi-layered, live-looping … the music keeps coming and you can't turn away.
Rob Elder Website
Rob's Photos by Amber Vee Photography